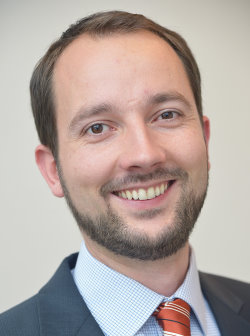 Universitätsprofessor (W3) / Lehrstuhlinhaber
Technische Universität Darmstadt, Fachbereich Informatik,
Wissenschaft und Technik für Frieden und Sicherheit (PEASEC)
Pankratiusstraße 2, 64289 Darmstadt, Raum 108
E-Mail: reuter(at)peasec.tu-darmstadt.de | Web: www.chreu.de
Telefon: +49 (0) 6151 / 1620941 | Sekretariat: +49 (0) 6151 / 1620940
Profilfoto: mittel | groß | PEASEC-Logo: klein | mittel | groß | Vektor
Online-Profile: Google Scholar | dblp | ORCID | Microsoft Academic
CV (de)
Prof. Dr. Christian Reuter ist Universitätsprofessor (W3) an der Technischen Universität Darmstadt. Sein Lehrstuhl Wissenschaft und Technik für Frieden und Sicherheit (PEASEC) im Fachbereich Informatik mit Zweitmitgliedschaft im Fachbereich Gesellschafts- und Geschichtswissenschaften verbindet Informatik mit Friedens- und Sicherheitsforschung. In der Schnittmenge der Disziplinen (A) Cyber-Sicherheit und -Privatheit, (B) Friedens- und Konfliktforschung sowie (C) Mensch-Computer-Interaktion adressieren er und sein Team die Themenbereiche (1) Friedensinformatik und technische Friedensforschung, (2) Kriseninformatik und Information Warfare sowie (3) Benutzbare Sicherheit und Privatheit. Seine häufig interdisziplinäre Forschung wird regelmäßig ausgezeichnet und ist in mehr als 250 wissenschaftlichen (meist peer-reviewed) Publikationen veröffentlicht. Sein Engagement in der Lehre wurde mit dem Athene Preis für Gute Lehre honoriert. Derzeit fungiert er als Prodekan des Fachbereichs Informatik.
Details: Christian Reuter studierte an der Universität Siegen und École Supérieure de Commerce de Dijon (Dipl.-Wirt.Inf.; M.Sc.), war als IT-Consultant tätig und promovierte zur Gestaltung (inter-)organisationaler Kollaborationstechnologien am Beispiel des Krisenmanagements (Dr. rer. pol., summa cum laude). Nach einer Tätigkeit als Bereichsleiter an der Universität Siegen und Rufen mehrerer Universitäten wurde er 2017 zum Universitätsprofessor ernannt. Seine Forschung wurde mehrfach ausgezeichnet, z.B. mit dem Brunswig-Promotionspreis für die beste Dissertation der Fakultät, dem Preis der IHK für herausragende anwendungsbezogene wissenschaftliche Arbeiten, als CSCW-Honorable-Mention der Gesellschaft für Informatik (GI), im Rahmen der BMBF-Nachwuchsförderung (2,7 Mio. €) sowie mit Best Paper Awards. Sein Engagement im Aufbau der interdisziplinären Lehre in der Schnittmenge von Informatik, Frieden und Sicherheit wurde mit dem Athene Preis für Gute Lehre – Sonderpreis Interdisziplinäre Lehre – honoriert.
Zusammen mit seinem Team hat er Forschungsprojekte (z.B. BMBF, DFG, EU) akquiriert, durchgeführt und koordiniert: Er ist Principal Investigator (PI) im TU-Profilthema Cybersicherheit (CYSEC), Forschungsbereichsleiter im Nationalen Forschungszentrum für angewandte Cybersicherheit ATHENE, PI und Koordinator der Graduiertenschule im LOEWE-Zentrum emergenCITY, Direktoriumsmitglied des DFG-Sonderforschungsbereichs CROSSING, PI im DFG-Graduiertenkolleg "Privatheit und Vertrauen", Sprecher von IANUS (Science Technology Peace) und Koordinator des BMBF-Verbundprojekts CYWARN.
Christian Reuter ist Herausgeber der Lehr-/Fachbücher "Sicherheitskritische Mensch-Computer-Interaktion" sowie "Information Technology for Peace and Security" (Springer Vieweg) und engagiert sich an der Universität (z.B. stv. Vorsitzender der Ethikkommission, Mitglied der Prüfungskommission Informatik sowie Vorsitzender und Mitglied zahlreicher Berufungs- und Promotionskommissionen), in Fachgesellschaften (z.B. Gründungsprecher und derzeit stv. Sprecher der GI-Fachgruppe "Usable Safety & Security", Mitglied im wissenschaftlichen Beirat der Deutschen Stiftung Friedensforschung) sowie als Organisator, (Meta-)Gutachter und Mitherausgeber wissenschaftlicher Workshops, Konferenzen (z.B. General Chair: Science Peace Security) und Journals (z.B. Associate Editor: Behaviour & Information Technology). Als IT-Unternehmer setzt er seit 2002 Web-Projekte um.
CV (en)
Prof. Dr. Christian Reuter is Full Professor at Technical University of Darmstadt. His chair Science and Technology for Peace and Security (PEASEC) in the Department of Computer Science with secondary appointment in the Department of History and Social Sciences combines computer science with peace and security research. On the intersection of the disciplines (A) Cyber Security and Privacy, (B) Peace and Conflict Studies as well as (C) Human-Computer Interaction, he and his team specifically address (1) Peace Informatics and technical Peace Research, (2) Crisis Informatics and Information Warfare as well as (3) Usable Safety, Security and Privacy. His often interdisciplinary research is regularly awarded and resulted in more than 250 scientific (mostly peer-reviewed) publications. He was honored with the Athene Award for Teaching Excellence. He currently serves as associate dean of the Department of Computer Science.
Details: Christian Reuter studied Information Systems at the University of Siegen, Germany and the École Supérieure de Commerce de Dijon, France (Dipl.-Wirt.Inf.; M.Sc.), worked as an IT consultant and received a PhD for his work on (inter-)organizational collaboration technology design for crisis management (Dr. rer. pol., summa cum laude). He was division manager at University of Siegen until he was appointed as professor in 2017. His research was awarded, e.g. with the Brunswig-Award for the best dissertation of the faculty, the IHK-Award for outstanding application-related scientific work, as CSCW-Honorable-Mention of the German Informatics Society (GI), by the Federal Ministry for Education and Research (BMBF, €2,7m) and with Best Paper Awards. His commitment to building interdisciplinary teaching at the intersection of computer science, peace, and security was honored with the Athene Award for Teaching Excellence – Special Award for Interdisciplinary Teaching.
He and his team have acquired, conducted and managed national and international research projects. He is a member of the TU profile topic Cybersecurity (CYSEC), mission coordinator in the National Research Center for Applied Cybersecurity ATHENE, head of the graduate school of the LOEWE Center emergenCITY, member of the board of the DFG Collaborative Research Center CROSSING, spokesman of IANUS (Science Technology Peace), PI in the DFG Research Training Group "Privacy and Trust" and coordinator of the BMBF project CYWARN.
Christian Reuter is editor of the books "Security and safety-critical Human-Computer-Interaction" and "Information Technology for Peace and Security" (Springer Vieweg) and engages at the university (e.g. deputy chairman of the ethics committee, member of the computer science examination committee as well as chairman and member of numerous doctoral commissions), in scientific societies (e.g. founding speaker of the GI-section "Usable Safety & Security", member of the scientific advisory board of the German Foundation for Peace Research) as well as organizer, in program committees, (meta-)reviewer and (associate-)editor of scientific workshops, conferences (e.g. general chair of Science Peace Security '19) and journals (e.g. Associate Editor of Behaviour & Information Technology). As a web entrepreneur, he realizes web projects since 2002.
Positionen
Fachbereiche:
Großprojekte:
Kommissionen:
Weitere TU-interne Mitgliedschaften:
Weitere externe Mitgliedschaften:
Publikationen
Auswahl
Bücher / Books
Begutachtete Zeitschriften / Peer-reviewed Journals
Publikationen in Konferenzbänden / Peer-reviewed Conference Papers
nach Jahr
2022
2021
2020
2019
2018
2017
2016
2015
2014
2013
2012
2011
2010